This educational resource book and the accompanying worksheets have been devised with reference to the aims and attainment targets of 'Programmes of study for History' at Key Stage 3, which form part of the National Curriculum in England. ​​The lesson plans and class activities are designed to assist with teaching on 'the development of Church, state and society in Medieval Britain 1066-1509'.
Pupils will learn:
Who the Angevin kings were and what England was like under their rule
Why King John and his Barons quarrelled with one another
How historians have viewed John's reign
Why Magna Carta was issued in 1215
Why Magna Carta was important in its own time
Why Magna Carta is still important today
Please find below the Key stage 3 educational resource book in PDF form. You can view them in your web browser, or right click and choose Save As... to download them.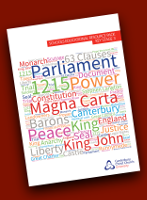 The files below contain an earlier version of these resources that users of this site are also welcome to download and adapt for use in the classroom.